Today is the 49th edition of our periodic guest post series called 10 Questions. We have a list of 17 questions we pose to fellow financial bloggers, and they are free to pick and choose 10 or answer all of them. Let us know if you would like to be featured in a future edition of 10 Questions.

Today's 10 Questions features Nate from InvestmentZen. Nate is an interesting cat. He went to university, but bypassed the traditional job route completely in favor of starting businesses/entrepreneurship. How cool is that? People who retire when they're 35 are living incredible lives. However, skipping the cube farm altogether takes it to the next level in my book.
Tell me about your blog and why it's great.
Why is the blog great? I don't know if I can say it's great – it's a constant path of gradual improvement, but we do try to find kick-ass writers like Mr. 1500* who share certain core values and work with them to publish good stuff.
Speaking of which, hey Mr. 1500, is it too early in the interview to start throwing in my own pitch? It's never too early you say? In that case, if you have an interesting personal finance story or investing case study to share and you want to publish a guest post, feel free to reach out to me at nate [at] investmentzen.com. I'd love to hear from you!
Tell me how you're going to change the world with your blog (dream big or don't dream at all!).
We want to spread the word that if you make the right choices, money can work for you, instead of you having to work for money.
We want to spread that message by tying financial lessons into interesting stories and case studies. How do you get people to eat their financial literacy veggies when everyone wants junk food?
We think one way to do it is to tie those lessons into stories that show people what boring, but sound financial thinking can do for their lives. Show people the possibilities, and it's easier to get them to learn about the process.
A lot of people might still choose to ignore this message – just read the comments whenever a big personal finance story hits a mainstream news publication (on second thought, just don't). But as long as there are people stressed out by money and stuck in jobs they hate, we think it's a message worth spreading.
What goals do you have for your blog, short and long term?
In the short term, we're (I have a partner who handles the techie side) just aiming to make the site self-sustaining. Running a multi-author blog is more expensive than just logging into WordPress and spinning words into gold.
Long term, I want to grow the site to 7 figures a month in unique visitors. Banks take mortgage payments in unique visitors nowadays, right?
What post are you most proud of and why?
Since I didn't write any of the posts, my pride comes from curating content ideas that I find inspirational or useful. The posts I like the most are the ones that dive into a really interesting personal story that either gives you a slightly new way of looking at the world, or gives you at least one actionable takeaway that can apply to your life,.
I'd say Mr. 1500's post about how a million dollars bought him happiness is probably the one I'm most proud of so far, but I also really liked Sean Cooper's post about how he paid off his mortgage early…as in 27 years early.
It's not about whether or not paying his mortgage off was the optimal decision from an ROI perspective (it probably wasn't), it's the fact that he had a lofty financial goal most people would think impossible and he made it happen by working his butt off and denying short term gratification. That's an inspiring story worth sharing!
Do you enjoy writing?
I love sharing and discussing powerful ideas, but I don't really love the writing process. I mean, if I enjoyed staring at a blank screen, I would just buy this painting:


As a result, I took a bit of a different approach than most people who want to launch a personal finance site. Instead of blogging about my own experiences, I wanted to find writers whose work I enjoy and have them contribute to the site.
I did have a bit of a writing epiphany doing this interview though – I'm writing right now and the words are flowing nicely. I think it's because I'm just answering questions so I'm not getting that frustration of just staring at a blank page.
The next time I write an article, I'm going to try writing a list of questions to myself and answering them. I think real writers call this an outline, or whatever…
1500 Days is about early retirement. Do you have early retirement dreams? At what age do you think you will retire?
I guess that depends on how we define retirement. I run a few online businesses that provide semi-passive income and let me work from anywhere, so I'm fortunate to already have a lot of freedom. I have no plans to ever stop working on projects that interest me, but I do want to achieve financial independence (and then some) by my mid 30s.
I have a bit of a unique path in that when I graduated from university, instead of sending out resumes and going to job interviews, I was already plotting my escape from the rat race.
I always loved the idea of building a business and I knew if I started my professional career, I would be resigning myself to years, maybe decades of stress, frustration, and regret. I noticed there was a pattern to how every wantrepreneur's dreams die:
When they're young with nothing to lose, they say to themselves "oh, I have no capital or experience, let me build some stability before I start a business."
When they put together a few dollars and start moving up the ranks, they say to themselves "oh, but I worked so hard to get here, it'd be a shame to leave now that I can finally reap the benefits."
Then when they're a crusty ol' senior manager, they say to themselves "oh, but the mortgage isn't paid off yet and the kids aren't done college, and my pension kicks-in in 8 years." Before you know it, you're getting a gold watch and you made your bosses very wealthy.
So…yeah, with that terrifying thought in mind, I decided after graduation it was time to put up or shut up. Luckily everything has worked out so far, but there were a couple of tough years where I was seriously questioning my life choices.
At the time (2010), I hadn't really heard of the idea of early retirement for regular folks. I thought of early retirement as a luxury enjoyed by entrepreneurs who sold their business for millions or maybe lottery winners (the few who don't blow their winnings). I think if I had ended up getting sucked into that corporate grind, the early retirement movement would have been my way out.
That's the reason I'm excited about FIRE now – I really think the FIRE movement is only going to grow as more people start to understand that the traditional life script of working at a job you hate until you're 65 and buying all sorts of pointless crap along the way doesn't make ANY sense.
If blogging isn't your full time gig, what is?
InvestmentZen is basically my full-time gig these days, but it doesn't pay the bills. I also build, buy and sell other websites.
One recent acquisition was a room rental site based out of Singapore. I actually did a short interview about that purchase for Flippa you can check out here if you're interested in learning more about the weird world of buying/selling websites.
Up until recently, I was also working on a software business that was acquired by a competitor. It wasn't a big multi-million dollar acquisition or anything, more like a friendly takeover. My friend happened to take control of one of the biggest companies in the vertical and our software had some features theirs didn't have, so instead of building out their own platform they just bought us out.
When you are 90 and look back on your life, what do you hope you have accomplished?
Whoa, this just went from what I do other than blogging to looking back at life on my deathbed.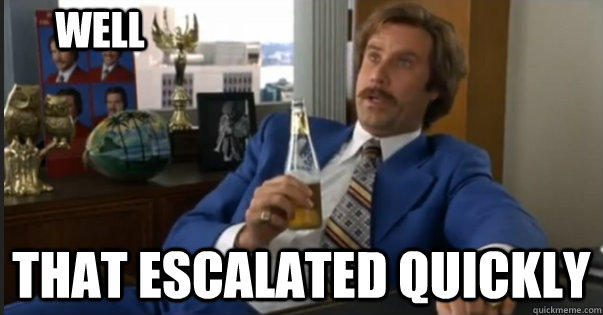 I'm 31 and the goals I had 10 years ago seem silly to me now…I can only imagine how ridiculous 31 year old me's attempts to understand 90 year old me will look in 59 years.
But since you're asking nicely, I just hope that I can look back with no regrets. There was a book a few years back by a palliative care nurse about the top 5 regrets of the dying. It turns out those top regrets were:
1. I wish I'd had the courage to live a life true to myself, not the life others expected of me.
2. I wish I hadn't worked so hard.
3. I wish I'd had the courage to express my feelings.
4. I wish I had stayed in touch with my friends.
5. I wish that I had let myself be happier.
I don't think I'm special – I'll probably have the same regrets as everyone else on my deathbed, so hopefully I can live a life that minimizes these 5 regrets when the time comes. I've got a lot to work on!
What is the best money management or investment tool you have come across?
Best tool that I've come across, or best tool that I've used?
For tool that I've personally used, I use a combination of Receipt Bank and Xero to manage bookkeeping for my business. I'm super disorganized, so having everything automated, paperless, and easy to reconcile is a huge time saver.
As for tools I've come across, I'm really excited about the new wave of fintech products. Unfortunately, most of them aren't available to Canadians (oh yeah, did I mention I'm Canadian?), so I just get to watch on the sidelines.
I really wish we had a Canadian Personal Capital. We have Mint, but it's not enough. I'm really excited about what robo advisors like Wealthfront and Betterment can do for people that know they need to invest, but have no idea where to start and no desire to manage their own portfolio.
I'm also fascinated by peer-to-peer lending platforms like Prosper and Lending Club. I've been waiting for one to launch in Canada that isn't just limited to institutional investors. I thought that wait was finally over when Lending Loop started taking investments from individual investors.
Unfortunately the regulatory landscape in Canada is still being sorted out, so they actually had to stop taking investments while the legal stuff gets worked out (if it ever does).
How do you handle people with different views on money, ie spendy people?
I try not to judge. I smile, nod, and tell myself that what other people spend their money on doesn't affect my reality. For me it really doesn't – one of the perks of running an online business is you don't have to try to fit in with co-workers – there's no Joneses to keep up with.
If anything – all of you reading this are the Joneses, and you all probably wouldn't be too impressed if I told you I just spent last year's income on a boat….
…don't worry, I won't have to make any payments until 2018!
As for friends, I actually don't think I'm friends with anyone frustratingly spendy.
But then again, I'm not really that frugal when it comes to social spending (i.e. eating out, travel, grabbing a few overpriced beers) so maybe it's just easier to blend in even though when it comes to buying "stuff", I live slightly above (below?) college student standards.
Did you grow up with money? How did your money situation growing up influence you?
I had a pretty average middle class upbringing in the suburbs – which I guess is pretty above average and privileged in the grand scheme of things. It actually made me not respect money as much as I should have. I took it for granted that bills got paid and food ended up on the table.
It took some trial and error – spending way too much hard earned money way too quickly – to realize just how fricken hard it is to get the money snowball rolling from a standstill, and just how quickly it can roll back downhill and crush you if you're not careful!
Did your parents teach you about money as a kid? How so?
I think they tried to teach me the value of money by setting a good example and lecturing, but like a lot of things parents try to teach kids, it didn't really get through to me at the time. It definitely took some trial and error of my own to figure things out.
What is your favorite style of beer – and what is your favorite beer in that style?
I love beer, but I never really grasped the intricacies of beer snobbery. I don't really have a favorite beer, but I do really like IPAs these days. I'll pretty much drink anything and enjoy it, as long as it's ice cold.
We notice a lot of frugal people are into board games – what is your favorite?
I used to love playing Risk when I was a kid, but I don't really play board games these days. I guess what remains of my frugal cred just went down another notch.
What is the best thing you've read lately.
Hmm, does the 2015 Berkshire Hathaway annual report count?
For non-finance nerds – I quite enjoyed the latest WaitButWhy post.
What do you do for exercise?
I go to the gym…infrequently enough that you can't actually tell that I go to the gym. I also run up the stairs in my condo building for a quick workout (about 40 stories).
Write your own question and answer
Do I *have* to? Nah, I think I'm done!
Big thanks to Nate for sharing a little bit of himself with us today. Check him out at InvestmentZen.com or follow him on Twitter, Facebook and Pinterest.
*Full disclosure: One of side jobs is writing an occasional post for InvestmentZen. It's been loads of fun and an incredible honor to work at something that I truly enjoy.
Way back when I was a silly teenager, I considered studying journalism because I enjoyed writing so much. I quickly decided that choice wouldn't be good for the bank account, so studied science and computers instead. Now that my computer career is drawing to a close, I'll be spending more and more time writing. My life has come full circle.
Thank you Nate!
Join the 10s who have signed up already!
Subscribing will improve your life in incredible ways*.

*Only if your life is pretty bad to begin with.