Today's 10 Questions comes from Kevin Ha, better known on the internet as the Financial Panther.
I first met Kevin at a Camp FI in his home state of Minnesota. At one point, he made the mistake of falling asleep on a couch which was a mistake on Kevin's part:
Please take the time to read all of Kevin's answers. He added his own question at the end which I found to be really great.
If you'd like to see more of Kevin (and me), we're both speaking at the wonderful EconoMe conference in November.
Why did you start your blog?
I started Financial Panther in 2016, just a few weeks after I left my job as an attorney at a big law firm. At the time, I had just paid off $87,000 of student loans and with my student loans gone, I felt that it was a good time to make a career transition – in this case, into public service. My thinking was that working in public service would be more fulfilling, as well as come with some more work-life balance that would hopefully allow me to pursue some other interests.
The blog came about when I was talking to a friend of mine about all the interesting financial independence blogs I was reading. He noticed that I had been doing a lot of interesting things with my money and thought I should consider writing about it too. It was something that I was thinking of doing, but I just didn't have the time while working at my big law firm job.
With some more time on my hands, I decided to take his advice to heart and started my blog, mainly to share my story about paying off debt, working towards financial independence, and side hustling using gig economy apps. It's now been five years since I started my blog and I've had a blast interacting with people in the community and sharing my thoughts and ideas about money and life.
Where do you live? Do you love it, hate it or just meh.
I live in Minneapolis and despite the winters, I still love it here (and truth be told, it's really only super cold in January and February).
Minneapolis has a lot of good things going for it. It's a city that offers a good quality of life. It's one of the top biking cities in the US, with some great biking infrastructure. And it's relatively affordable to live here, especially when compared to more popular similar-sized cities like Denver or Portland.
What do you do for a living?
I always find this to be a difficult question to answer. I went to law school and practiced law for five years, so I often tell people that I'm a lawyer (and I'm still a licensed attorney, so there's that).
The thing is, I never really enjoyed practicing law very much. In 2019, after writing and doing side hustles for many years, I decided to take a leap and quit my job to pursue self-employment. These days, I write, blog, and side hustle. So I guess I'd say I'm currently a writer and full-time side hustler.
Transportation (how do you get around): car, train, bus, bike or VTOL?
I'm a year-round cyclist – and that includes biking through the harsh Minnesota winters too! The secret is wearing layers. If you bundle up, the cold really isn't that bad.
I usually use a regular bike to get around, but a few years ago, I bought an electric bike and it completely changed my life. It essentially doubles how far I can travel, making it so I can cover distances of 10-12 miles in about 30-40 minutes without breaking a sweat. If you're someone that is at all interested in replacing some (or all) of your car commuting, you should seriously consider getting an ebike. They can seem expensive at first, but if you think of them as a car replacement, they're very reasonably priced. Even your crappiest car is likely going to cost more than an ebike.
Beyond bikes, I also sometimes get around using electric scooters. I signed up to be a Lime scooter charger a few years ago and one little-known perk is that you can basically ride the scooters around for free when you're charging them. During the summer, I'll usually grab a scooter and charge it just so I can ride it around for the day.
In short, if it's electric, lightweight, and has wheels, I'm all about it!
How do you stay fit? (If you're one of those crazy Crossfit people, please don't tell me that I suck because I don't do it. This has happened.)
I'm admittedly not the healthiest when it comes to eating, but I do think I keep a naturally active lifestyle simply because of the way I opt to move around my city – namely by biking, walking, and otherwise using my body to move.
One strategy I use to both earn money and get exercise is delivering food using on-demand food delivery apps like DoorDash, Uber Eats, and Grubhub. I do all of my deliveries using a bike, which when you think about it, essentially allows me to get paid to exercise. And surprisingly, you can make a lot from delivering food if you use the right strategy.
What is one post that you've written that you wish would have gone viral?
I wrote a post a few years ago on a concept I called the Reverse Latte Factor. Many of you reading this have probably heard of the Latte Factor, which basically says that small amounts, when saved and invested over a long period of time, can add up to big numbers. By cutting out small daily expenses that you probably don't really need, you can literally end up with hundreds of thousands of dollars over the long term. In essence, the Latte Factor is a lesson in opportunity cost – if you spend your money one way, you can't use it in another way that might be more valuable.
You can think of the Reverse Latte Factor as a corollary to the Latte Factor. If we can end up with large sums of money by cutting out small, daily expenses and saving that money, then it also means we can end up with large sums of money by earning small amounts of extra money each day and saving that. In a way, the Reverse Latte Factor gives you the best of all worlds – you can enjoy your guilty pleasures and still save for the future too.
What makes the Reverse Latte Factor interesting is how many different ways you can earn extra income in today's world. Even more interesting is the fact that you can earn extra income in small piecemeal chunks, which wasn't really possible before smartphones and the gig economy. Today, you can literally turn on your phone, work for a few minutes and make $5 or $10, then go back to whatever you were doing.
The math is pretty wild when you look at what these small amounts of extra income can mean. Take the time to earn an extra $5 or $10 per day, save all of it, and you'll end up with hundreds of thousands of dollars over the course of 30 years. Figure out a way to earn an extra $30 per day and you can literally become a millionaire. It really doesn't take much if you give yourself time and are consistent.
Is your goal financial independence? If so, where are you on the journey?
I imagine that my introduction to financial independence was similar to how many others find their way into the financial independence movement – I was unhappy with my job and was looking for a way out. Financial independence gave me a clear blueprint of how I could do exactly that.
My thinking about what financial independence means to me has evolved a bit over the past few years, however. When I started on this path, I thought of work as something you had to grit and grind through until you saved enough that you could quit and do what you really wanted to do.
My epiphany came a few years ago when I took a sick day from my day job to work on my blog. I spent the day writing at a coffee shop, then did some food deliveries on my bike. As I was going around enjoying that gorgeous spring day, it occurred to me that this is exactly how I wanted to spend my days. And I didn't need to have a million dollars or more to do that.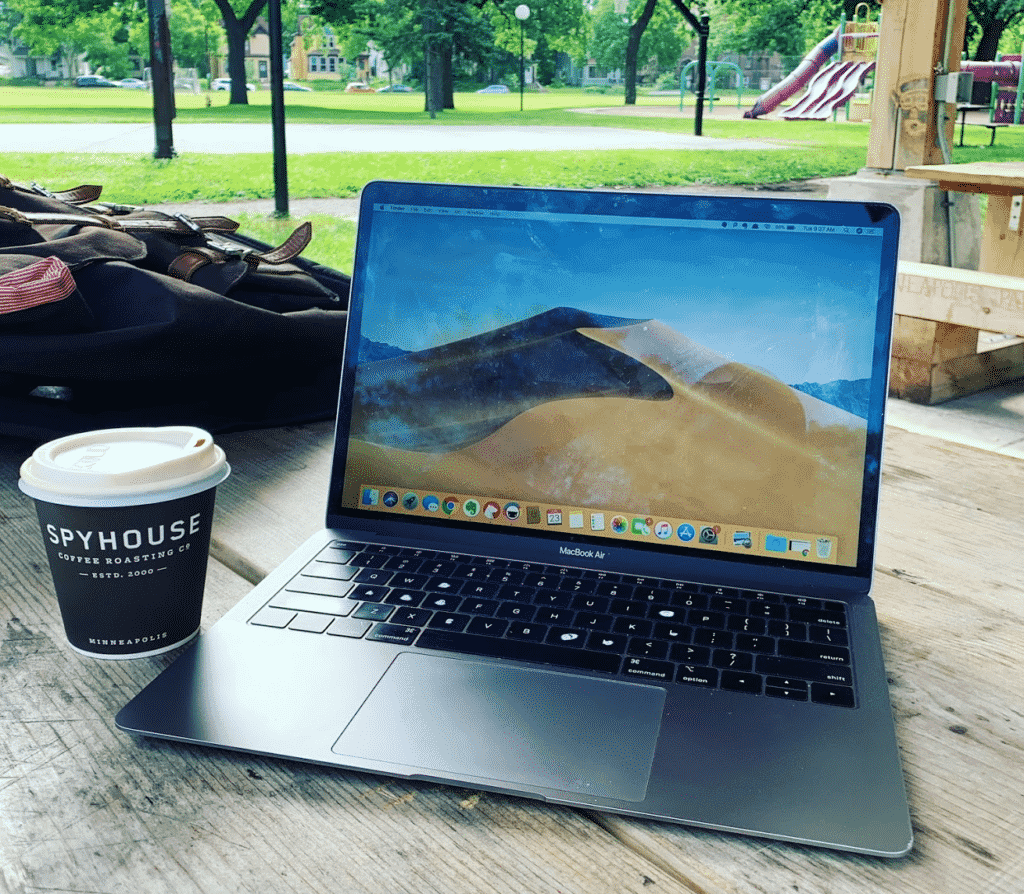 So today, my goal isn't exactly financial independence. I'm at a point where I'd consider myself at least Coast FIRE, or where I've saved enough money that my investments will likely grow enough to support my lifestyle at traditional retirement age even if I never save any money again. And I'm probably heading towards some version of a Barista FIRE where I can support my lifestyle by earning a little bit of active income.
But in terms of financial independence, I'm just trying to create my own version of financial independence these days – earning money to support my lifestyle while doing the things I enjoy doing. I like to think of it as creating my own FI.
What is the best thing you ever bought? The worst?
The best thing I've ever bought has got to be my first ebike. It completely changed what I thought was possible with bikes. I bike more than most people, so biking with a regular bike isn't a problem for me, but with an ebike, it feels like the entire world is open to me.
In terms of the worst things I've ever bought, it has to be the thousands of dollars of clothes I bought back when I was in college. I still look back at my college years and think about how much money I spent on clothes that I wore a few times before I realized I didn't like them (not to mention that my college style really wasn't great). If I had instead saved that money or at least spent it on more meaningful things, I think it would have made a huge difference in my life.
What is one thing you firmly believed 5 years ago that you no longer believe?
That it's okay to spend money. When I first discovered financial independence, I did what a lot of people do where I instantly started trying to cut down my life as much as I could. It was almost a competition where I wanted to have a higher savings rate compared to everyone else. Worst yet, I judged people who didn't do the same.
These days, I'm much more of the mindset that spending money isn't a bad thing. What matters isn't whether you spend or don't spend money. It's that you spend your money in ways that are meaningful to you.
If you have a magical power that allowed you to change one set of beliefs in others, what would you choose?
I'd get people to believe in themselves more. I think a lot of us have limiting beliefs or tell ourselves we can't do the things we want. It's usually based on fear. We're scared that if we do something different, things won't work out and we'll ruin our life. The thing is, most of the decisions we make aren't life-ruining. We just hype it up in our heads.
Think about the things we consciously or unconsciously tell ourselves. Even in the financial independence community, we tell ourselves that if we declare ourselves financially independent at the wrong time, we'll run out of money and be finished. Or if we quit our job, we'll never get another job again. I just don't think that's how life works. Life is way too complicated and unpredictable.
We'll all make wrong decisions, of course. But that's just something that's going to happen. Most of the time, we can figure things out and keep pushing forward. If more people understood that, I think we'd see more people give themselves permission to try things.
Join the 10s who have signed up already!
Subscribing will improve your life in incredible ways*.

*Only if your life is pretty bad to begin with.